CAMCo was founded in 1984, and later Incorporated to fill needs in the area of ceramic-metal and brazing technology as applied to electron tubes and similar devices.
Our business has centered on the manufacture of automatic, batch type, reducing atmosphere and vacuum coldwall furnaces and turnkey high vacuum systems.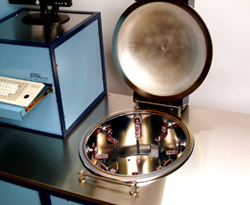 CAMCo supplies equipment to laboratories as well as manufacturing facilities. Altair, Coors, CPI and PerkinElmer are some customers who rely on our furnaces to determine process parameters and reproducibly manufacture components and sub assemblies.
Evidence of our equipment value is in the large percentage of repeat orders from such well-known customers as:
• Excelitas Optoelectronics
• Elcon
• L3 Communications
• Varian/CPI
• Dunlee/Phillips Medical Systems
• Xoft Microtube


CAMCo is dedicated to providing the best possible equipment value and support service to help you accomplish your process needs. Our background in the ceramic-metal industries enables us to assist in the process evaluation. On occasion, we have offered approaches resulting in substantially improved yields. Our unique modular concept enables us, in an efficient way, to supply equipment optimized for your intended use.

Ongoing sensitivity to the requirements of the electron tube and semiconductor industries directs us toward development of next generation products.
We keep our model B-1600 furnace on site for test evaluation of customer parts. This allows potential customers to test and operate our furnace to experience the ease of programming, temperature uniformity and control.
Each of our furnaces are hand built by skilled employees. We at CAMCo are proud of our long term employees (12 years average!)
CAMCo is located in San Carlos, CA, USA, twenty miles south of San Francisco, in the heart of "Silicon Valley". We take advantage of the local technology to produce technically advanced, quality equipment at very competitive prices. Our equipment is used throughout the US and abroad, in countries such as England, Singapore, China, Russia & Germany.
Our company is small enough to react quickly to our customers' needs and knows the value of keeping your equipment up and running in a production environment. We have been in business for over 20 years. We look forward to becoming your supplier of high temperature and high vacuum equipment.